PERMISSION TO FLY SINCE 2015
Kite Vision is BNUC-S qualified through EuroUSC. With this qualification we have obtained permission for aerial work (PFAW) from the Civil Aviation Authority (CAA) enabling us to fly commercially.

To obtain the qualification and licence we had to undergo rigorous training, including a theory test, a practical flight test and also writing our safety operations manual. The knowledge gained through compiling this manual and the procedures we choose to operate by, mean that the work we undertake is as safe as possible and also highly technically proficient.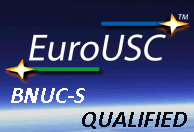 We have public liability insurance up to £5 Million